Team up to slim down! Join the Dynamic Duo Fat Melt Down at Custom Body Fitness in Carbondale
Custom Body Fitness
Make money referring friends!
Get your personal sharing link and send the deal to your friends. When they buy, you get $5 credit towards purchases! No limit on money you can make.
Get activated here
Want to say something about this deal?
The Deal
Get fit and GET PRIZES! It's a win-win for you and your workout buddy - and if you steal this deal, you can train for 27 days at Custom Body Fitness for just $79 (reg. $230) - OR buy your Duo Entry for $140!

Dynamic Duo Fat Melt Down is the most exciting contest at Custom Body Fitness. Find a partner and sign up together and have a lot of fun training and achieving your goals! Your work as a team and you win as a team.

Don't miss the opportunity to be part of this exciting event, Dynamic Duo Fat Melt Down. So grab your partner and win… and lose the undesired fat together!

ENTRY INCLUDES:
Body composition measurements

Meal plan

Goal setting

Unlimited access to CBF's group training classes
...and of course, 27 days of motivation and friendly competition!
DATES
Baseline (starting) assessment dates: 8/1 - 8/5

Dynamic Duo Fat Melt Down starting and ending dates: 8/8 - 9/3

Closing (results) assessment: 9/5 - 9/9

Party (prizing) date: 9/10
And most importantly... PRIZES!
First prize:
$200 cash

Two massages from Hair Bar with a value of $100 each

And a choice of the following:

Funday passes (2) to Adventure Park with a value of $49 each

Iron Mountain Hot Springs passes (2) with a value of $25 each
Second prize:
$100 cash

Two Acupuncture sessions from Gaia Tree with a value of $120 each

And tickets to the Funday Adventure Park or Iron Mountain Hot Springs
Third prize:
$50 gift certificate to The Carbondale Beat Restaurant ​
*Select SINGLE or DUO entry at checkout*
Highlights:
Get fit and GET PRIZES!
27-day fat loss progam with UNLIMITED group fitness training at Custom Body Fitness
Select $79 single entry or $140 duo entry (reg.$230 per person)
Details:
New members only, please
Voucher holds no cash value, no change given for unused portion
Contact Sandro Torres with questions: custombodyfitness@gmail.com
About
Custom Body Fitness
Click here for more details.
Dear Friend,
My name is Sandro Torres, and after a decade working in the fitness industry, I knew it was time for me to offer my clients something more — an innovative, comprehensive, and proven approach to deliver real results.
That's why I founded Custom Body Fitness in 2010, and today, remain passionately dedicated to serving my clients and helping them accomplish their fitness and weight loss goals once and for all.
There's no such thing as a one-size-fits-all solution for health and fitness. That's why our program is entirely personalized for you, your body and your goals.
You'll benefit from an approach that is much more than simply training at the gym. We provide you the healthy lifestyle tips and nutritional insight you need to succeed out of the gym as well, and offer a combination of training approaches which offer both fat loss and muscle building.
Our innovative workouts offer a fresh and fun approach to fitness, and you'll be amazed at the quick results you see. You'll be motivated from our group environment while still receiving the personal attention you deserve.
At Custom Body Fitness, we know that the only way to get the body you want is by changing your lifestyle, and we have the tools you need to achieve those goals. We'll deliver real results, both quickly and over the long haul as well, and you'll look and feel at your best, enjoying a healthier and happier life.
Get started with our personal training and weight loss management and we guarantee you'll experience great success.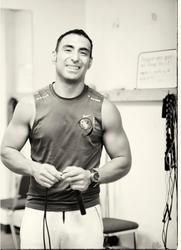 Choose your deal:
$79 Dynamic Duo Fat Meltdown - single entry
( Value

$

230

)
$140 Dynamic Duo Fat Meltdown - 2 Person Entry (Save Even More!)
( Value

$

460

)
Buy Now!